---
NHLC
---
---
Separate Listings
---
---
Other Calendars
---
---
Activism
---
---
Let's show the world that NH is for US Congressman Dr. Ron Paul for PRESIDENT!
Here is a Quick Guide on how you can help him win this early state.
---
How to Help Dr. Paul in New Hampshire!
---
State Links
---
---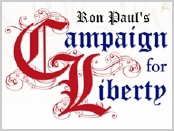 Join the Campaign for Liberty!
---

Try 12 Free Servings!